Vote of Thanks Speech in English. Vote of thanks speech sample. Vote of thanks speech in school by teacher. Vote of thanks speech in school assembly.
What is vote of thanks speech?
Vote of Thanks Speech: A vote of thanks is an expression of gratitude, typically given during a public speech, ceremony, or event. It can be given by an individual or a group, and is usually given at the end of the event.
Why is it necessary to give the Vote of Thanks Speech?
A vote of thanks is an official speech that is important in each program to be provided. It indicates the gratitude that the host feels towards all the people who have helped him or her organize the event and the people who have attended it to make it special. This vote of thanks speech is also important for students especially during programs in school as they learn how to deliver the speech in the right way. This is the way that they learn through school and then practice it later on in life.
What is the importance of vote of thanks?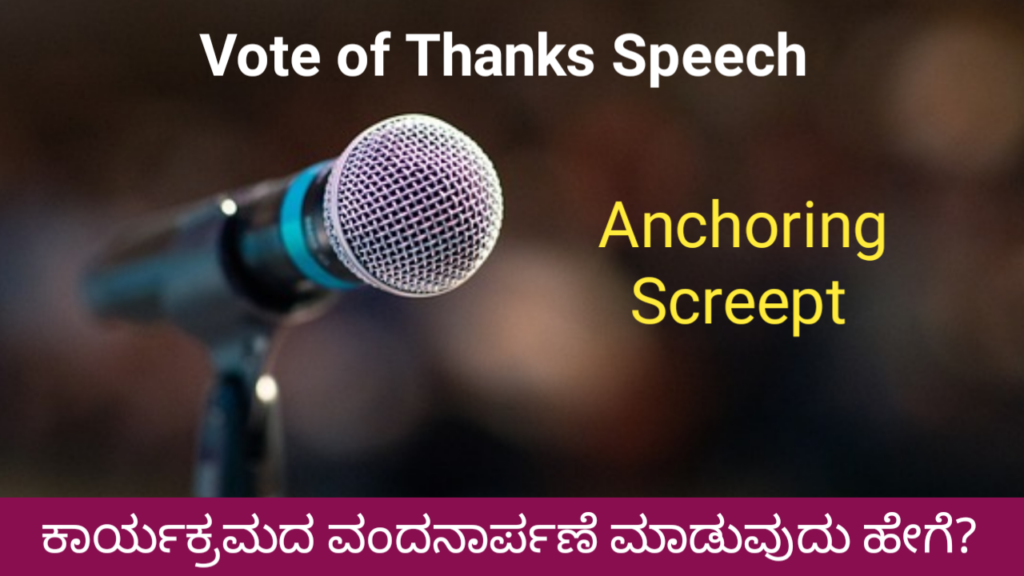 A vote of thanks is also sometimes called the gratitude speech. This is the time that a person either the host or a friend of the host will be providing the vote of thanks. This vote of thanks allows people to express their gratitude for other people who have attended the event.
To get more speech, visit our YouTube channel. This channel is very useful for all competitive exam preparation.
Click here to download Vote of thanks speech
Watch this video for the explanation of Vote of Thanks Speech in English.
short vote of thanks speech in Kannada
Vote of Thanks Speech in English
What is vote of thanks?
The vote of thanks speech for farewell can also be referred to as parting speech. It is usually given after the event has come to an end, it can be a school farewell as well. The person appointed to present the vote of thanks for the farewell party speech holds quite a responsibility to not miss out on anybody while expressing gratitude for the success of the event. The speech is a way to appreciate the efforts of all involved parties. One can also share his personal experience of the event in their speech.
This form of Vote of thanks for a farewell party is helpful for students in schools and colleges who are the appointed speakers for the closing ceremony.
A Model Vote of Thanks Speech
A warm and graceful morning to our most valued Honourable Chief guest Mr/Ms….., management committee, worthy teachers, parents, my dear friends, and everyone gathered here. It's my privilege to propose a vote of thanks speech and acknowledge the contribution of those who worked really hard to make this Annual day celebration happen.
1. Thanks to Almighty
I (speaker name), on behalf of ……. school name ……, and the entire fraternity of the institution, first of all, extend my most sincere thanks to the Almighty God for making today's event a resounding success. With his blessings and grace, we are able to make this event what it was.
short vote of thanks in English
2. Thanks to other Dignitaries
On behalf of my school, I extend a really hearty vote of thanks to our chief guest ( …Guest name) who spared time from his busiest schedule to grace the occasion. Today we had an opportunity to hear your thoughts and this will surely be going to encourage us in our future events.
Your thoughts have enlightened our minds and have shown us a new path. My gratitude to all the speakers for gracing the occasion and sharing their opinions today.
3. Thanks to School Staff
I am immensely thankful to Master …………, for his or her efforts towards anchoring of today. His own ideas and elegance of explanation of everything, I need to mention my deepest sense of appreciation
A special mention to our respected Principal Mr/Ms…. for being the catalyst that stimulated us to do our best and standing as pillars of strength. With a deep sense of appreciation, we thank our loving teachers for their untiring efforts.
4. Thanks to Parents and Children
Our sincere gratitude goes to all parents and well-wishers for your rock-solid support system and encouragement. Without your support children were not been able to achieve excellence. Thank you so much for attending this event.
Finally, I would like to thanks our budding rock stars that made this event joyful with their impressive performances. Your days of hard work were evident in your acts. All the programs were very good and were enjoyed by each one of us present here.
English speech for students
5. Conclusion
Last but not least a big thank you to each one of you who made this Annual day celebration memorable for all of us. On behalf of my school let me thank all students… (School name) to be disciplined and honoured. Our school students are not only good at academics but also in extracurricular activities.
I would also like to thank the people who worked behind the scene to make this event happen, our technical arrangement team, stage setting, and lighting arrangement team all the musicians and housekeeping staff.
Example 1 – Vote of Thanks Speech for a General Event
Good Evening everyone. It has been such an honour to be a part of this wonderful event. On behalf of the organization, I would like to extend my heartfelt gratitude to our esteemed guests, Mr. Chandhrasekar, Manager, IT Solutions and Mrs. Sunitha, Director of NSM Technologies. Thank you. Sincere thanks to the heads of the various departments who handled the event throughout. A wide round of applause and thanks to all the participants who made the event a memorable one. Finally, I would like to thank all of you present here for making the time to be with us today and helping us make this event a grand success. Thank you one and all.
Example 2 – Vote of Thanks Speech for Teachers' Day
A very good morning to all. On behalf of all students and staff, I am glad to be standing here to express my vote of thanks. A special thanks to our Chief Guest, Ms. Sandhya, for accepting our invitation and for being here with us today. Your thoughts have truly inspired us. I thank our Headmistress, Mrs. Karishma, for always supporting and guiding us.
Vote of thanks speech in college
Our Teachers, the superstars of today, always put in a lot of effort and love into making each one of us good students and wonderful human beings. You have always been generous with your time when your students need you no matter what. Thank you dear Teachers. I would be failing in my duty if I did not thank my fellow students who have made this day possible. I would also like to thank each and every one of you for being here and making this day a wonderful and memorable one for our dear teachers. Thank you once again.
Good evening to the honourable chief guest, respected principal, invited chief guest, teachers and my dear students.
Example 3 – Vote of Thanks Speech for a Farewell
First of all, I would like to thank the Principal Madam, you gave me an opportunity to speak on this auspicious occasion, and it is a matter of honour for me.
On behalf of the entire institute, I would like to thanks the honourable chief guest, because school program can be complete without your presence and inspiring words.
I thank you from the bottom of my heart. Also, I want to express my heartfelt gratitude to all the guests present today.
I would also like to thanks the student committee and the support staff, for the complete preparation of this farewell program, you got just two days' time.
In this such a short time, you have made the best arrangements for this program, thank you wholeheartedly.
I have also obligated to the parents present here, your participation and suggestions always help us.
Finally, I would like to say, Thanks!!