SSLC Science important notes. Most expected questions and answers for 10th class Science. 10th class Science notes.
In this post we will discuss 10th standard Science notes. 10th class Science passing package and science notes.
To get more video notes for class 10, visit our YouTube channel. This channel is very useful for SSLC exam preparation.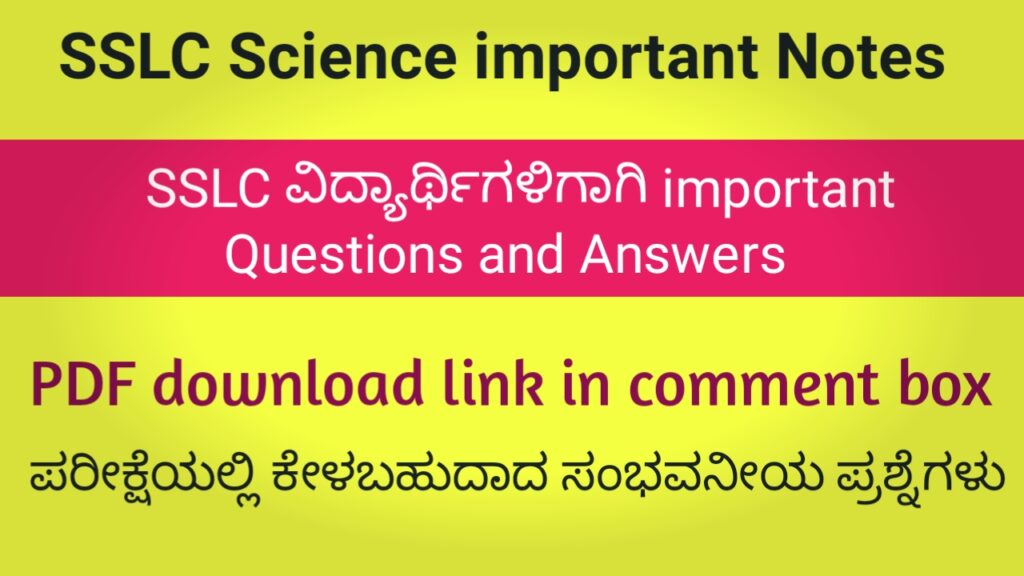 Subject: Science
Class: 10th
Medium: Kannada
State: Karnataka
Cost: Free
Sub-topic: Question bank
File type: PDF
Share: Sharable link is given
Copyright: Protected
Download: Given download link
Board: Karnataka KSEEB
Print Enable: Yes
Editable Text: No
Copy Text: No
Scanned Copy: Yes
Password Encrypted: No
File Size Reduced: No
Quality: High
Download Link Available: Yes
File View Available: Yes
Download SSLC Science important notes
Watch this video for the explanation of SSLC Science important notes2022-23.
Science important questions and answers for SSLC
Class 10th has been considered the most important phase of academic life. The complete line of Important questions for class 10 science has been professionally prepared by our users.These questions become highly useful for the students looking forward to making the best out of their exams.
The team at Physics Wallah is dedicatedly involved in creating these set of questions adhering to the latest syllabus. Read NCERT text book and solve all questions given in exercise with the help of NCERT Solutions for Class 10 Science.