SSLC Hindi preparatory exam question Paper. 10th class Hindi model question papers. Download 10th standard question papers with key answer.
In this post we have discussed Hindi question papers for class 10. SSLC model question paper with key answer of 2022-23.
To get more video notes for class 10, visit our YouTube channel. This channel is very useful for SSLC exam preparation.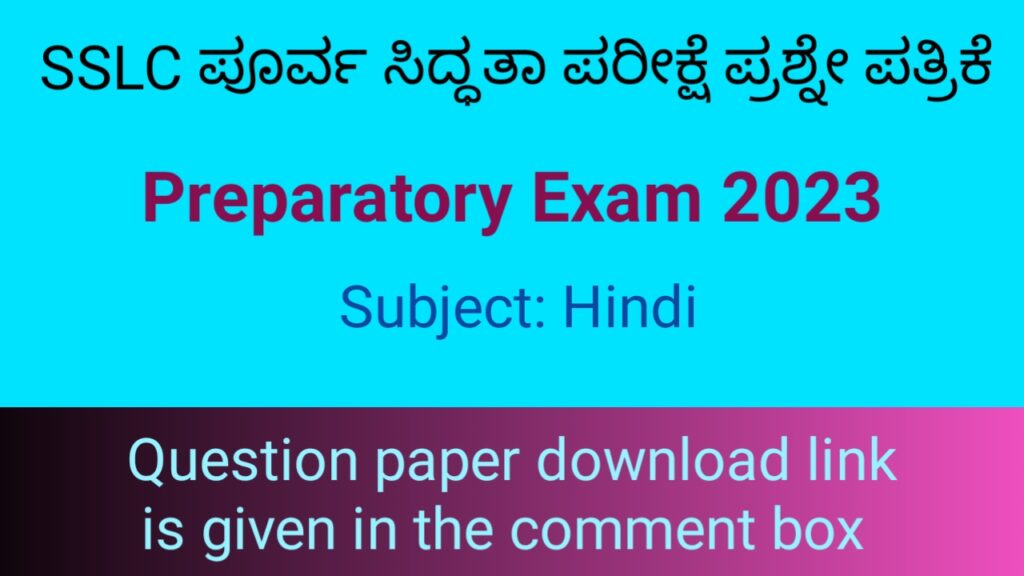 Subject: Hindi
Class: 10th
Medium: Kannada
State: Karnataka
Cost: Free
Sub-topic: Question paper with key
File type: PDF
Answers: Given key answer
Share: Sharable link is given
Copyright: Protected
Download: Given download link
Year: 2022-23
Board: Karnataka KSEEB
Print Enable: Yes
Editable Text: No
Copy Text: No
Scanned Copy: Yes
Password Encrypted: No
File Size Reduced: No
Quality: High
Download Link Available: Yes
File View Available: Yes
Click here to download 10th class question paper
Watch this video for the explanation of SSLC Hindi preparatory exam question Paper.
Karnataka SSLC exams are conducted at state-level and approximately 8.5 lac students appear for the SSLC examination every year. The duration of the examination is 3 hours. It is very common to face stress before examinations. If you are scared and confused, or is feeling too much pressure during exam times, you can download and solve the Karnataka SSLC Model Question Papers for reference. It will help you to be more confident while facing the exams as you will get a better idea about the paper pattern and the marks allotment from the sample papers.
Karnataka SSLC Model Question Papers
Solving these Model Question Papers helps the students to understand the important topics, types of questions repeatedly asked, time management, marking scheme etc. Practice of these Question papers would also improve your speed and efficiency.